Meet the City's Elected Officials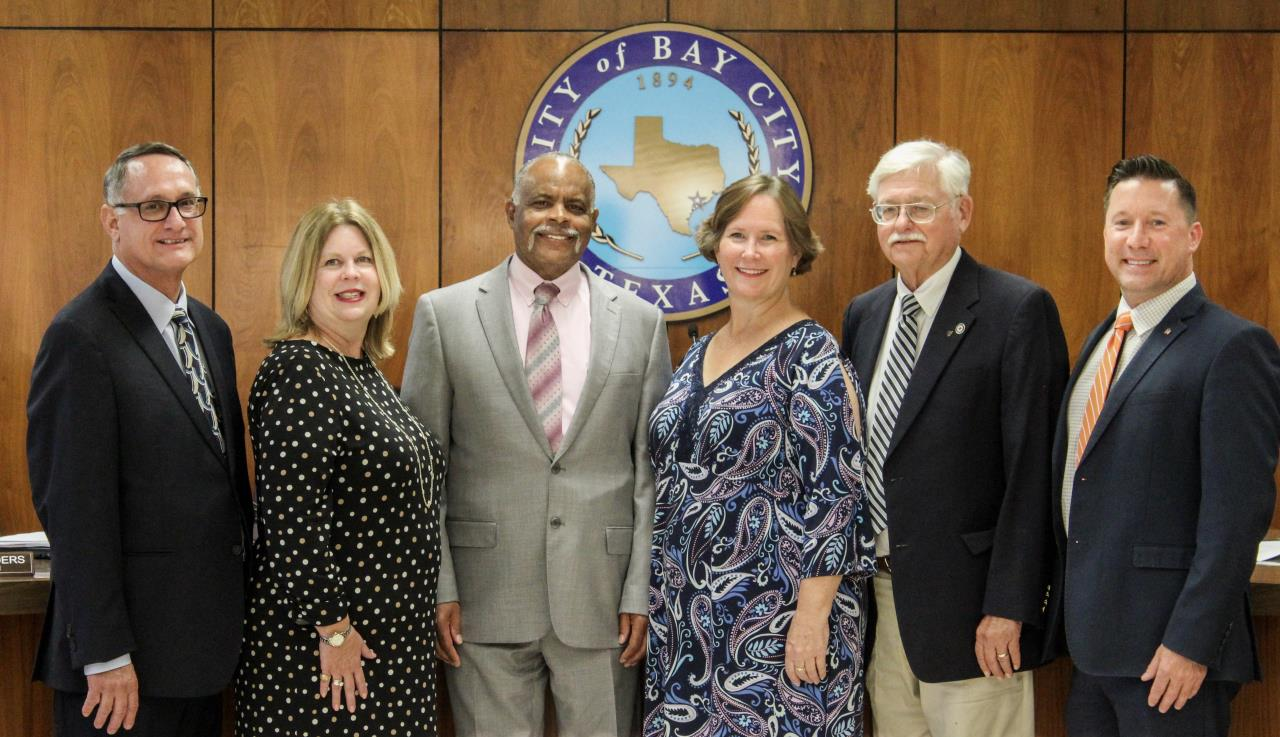 City Council along with Mayor Robert K. Nelson in Council Chambers at City Hall. (Left: Councilman Brent Marceaux, Councilwoman Julie Estlinbaum, Mayor Robert K. Nelson, Councilwoman Becca Sitz , Councilman Bill Cornman, and Mayor Pro-Tem Jason Childers.)
The City has a home-rule City Manager-Council form of government. The elected body is made up of a Mayor and five council members who are elected on an "at-large" basis by the community. The Mayor is elected for a three-year term while Council Members are all elected for staggered two-year terms. Your City Council meets every second and fourth Tuesday at 6:00 p.m. Special Called meetings, Workshops and/or Public Hearings are scheduled, as necessary, with the approval of the Mayor.
The Mayor presides at council meetings and is the Chief Executive Officer of the City. The City Manager is in charge of administering the City's daily activities, advising and assisting City Council, and representing the City's interests with other levels and agencies of government, business interests and the community at large. The City Council is responsible for appointing the City Secretary, City Treasurer, Municipal Judge(s) and Chief of Police.
Robert K. Nelson
Mayor Robert K. Nelson is our newly elected Mayor. He began his term on June 13, 2019. Mayor Nelson has been a resident of Bay City since 1993 after moving here from New Jersey in 1990 and spending a short time in Lake Jackson. His previous career was with LyondellBasell and Celanese. Having lived here for many years and seeing a need for improvement he decided to run for office to use his education, experience and passion to help the City of Bay City unite and nurture economic and personal development.
His mission is to unite and collaborate with the citizens of Bay City to foster significant relationships in order to move Bay City forward. Together we will improve our streets, housing, and aesthetics of the city as well as the traffic flow. He will initiate neighborhood town hall meetings to discuss issues and receive feedback from the residents. It is important to listen to and know what the citizen's aspirations are for their city. Click Here to Contact the Mayor's Office
Mayor Robert K. Nelson
rnelson@cityofbaycity.org 979-245-2137
Julie Estlinbaum Position 1
Julie Estlinbaum graduated from Bay City High School in 1981 and Texas A&M University in 1985. In 1997, after living in San Antonio and Houston, she moved to Bay City with her husband, District Judge Craig Estlinbaum, and her daughter, Shelby. She has taught school for over 29 years, with more than 19 of those years in Bay City ISD. Her daughter, Shelby, is a graduate from Texas A&M with a certificate from the PATHS Program.
Councilwoman Estlinbaum was first elected to City Council in 2012, and is currently serving her fourth term which began in June of 2018 and is set to expire in May 2020.
Councilwoman Julie Estlinbaum
jestlinbaum@cityofbaycity.org
979-245-2137
Bill Cornman - Position 2
Bill Cornman has been serving on Bay City City Council since 2012. A 4-year scholarship athlete, Bill attended the University of Tulsa and graduated with a Bachelor of Science in Mechanical Engineering. During his career, he served as the Manager of Engineering and Operations at Celanese Chemical Co. His wife of 50 plus years, Connie Cornman, teaches Biology at Bay City High School. Councilman Cornman has three children and eight grandchildren.
Councilman Cornman was first elected to City Council in 2012, and is currently serving his fourth term which began in June of 2018 and is set to expire in May of 2020.
Councilman William "Bill" Cornman
wcornman@cityofbaycity.org
979-245-2137
Brent Marceaux - Position 3
Councilman Brent Marceaux
bmarceaux@cityofbaycity.org
979-245-2137
Becca Sitz - Position 4
Growing up and graduating BCHS Class of 1980, my family has been in business and has participated in our community by volunteering and investing.Hard work and the reward of a job well done are the backbone of America. I believe we have good citizens who want to live in a great community. I believe in family and the privilege to work hard and live a good life. In addition to working as a teacher/guidance counselor in this community and others, I have served and will continue to serve in many ways. I have used my teaching certificate and Masters in Education Counseling for 27 years. With your help, I will use my degree in Finance to help the city.
I enjoy being involved in my community. I have served on Mainstreet, MC Museum, PEO., St Peter Lutheran Church council, Certified Local Government, BC Historic Commission, Chamber of Commerce, MC Historic Commission and MC Birding Nature Center.
I have enjoyed memberships and have supported many other local organizations. I hope to contribute to our beautiful, small town in the following ways. Business development, clean and orderly town, and Trains are my top three priorities. I hope you are motivated to attend city council meetings and help these goals. We are small, town America. We need to support each other and our beautiful Bay City. Currently elected to my second term set to expire in May 2022.
Councilwoman Becca Sitz
bsitz@cityofbaycity.org
979-245-2137
Jason Childers - Position 5 (Mayor Pro Team)
Jason W. Childers was elected to Bay City, City Council in May 2017. Jason graduated from Sam Houston State University in 1997 with a Bachelor of Arts in Spanish with an emphasis in Business . He is also a graduate of Southwestern Graduate School of Banking, a premier banking graduate school at Southern Methodist University. Mr. Childers had 15 years of banking experience where he served as Senior Vice President until August 2016 when he joined Gateway Mortgage Group as a Licensed Mortgage Loan Originator. He currently serves as Branch Manager and Loan Originator at Hancock Mortgage Partners, LLC. He serves and has served the community on Bay City Rotary Club as Secretary, President and Director; Bay City Lion's Club Rice Festival Chairman and Director; Gulf Coast CASA Vice President and Director; Bay City Chamber Ambassador and Director; Bay City Main Street Program Treasurer. Jason has lived in Bay City since 2009 and is proud to call Bay City and Matagorda County his home.
Councilman Childers was first elected to City Council in 2017, and is currently serving in his second term, which is set to expire in May 2022.
Councilman Jason Childers
jchilders@cityofbaycity.org
979-245-2137